About reinpapier®
by DE-PACKpublished on

High Quality Paper Injection Molding Technology
Current daily reports show that much our fragile ecosystem is already polluted by plastic packaging waste. Unfortunately, the trend is still rising!!
So imagine a world where natural packaging safely protects your packaged goods during transport and storage. Packaging that consists largely of potato starch and paper and can be simply composted after use and can completely biodegrade within a few days - completely and without harmful residues. That is why we are taking a first important and responsible step towards a clean future with the packaging brand reinpapier®.
The considerable impact of plastic on our ecosystem is reduced many times over with this original and innovative packaging. reinpapier® is 100% sustainable packaging material that can be used in a wide range of industries.

reinpapier®, paper injection molded packaging, is perfect for use as a single use, disposable packaging because of its excellent recyclability and compostability. Disposable packaging is used for most products on the market. With reinpapier® we offer you a high-quality, natural and sustainable packaging solution that meets all your requirements and needs.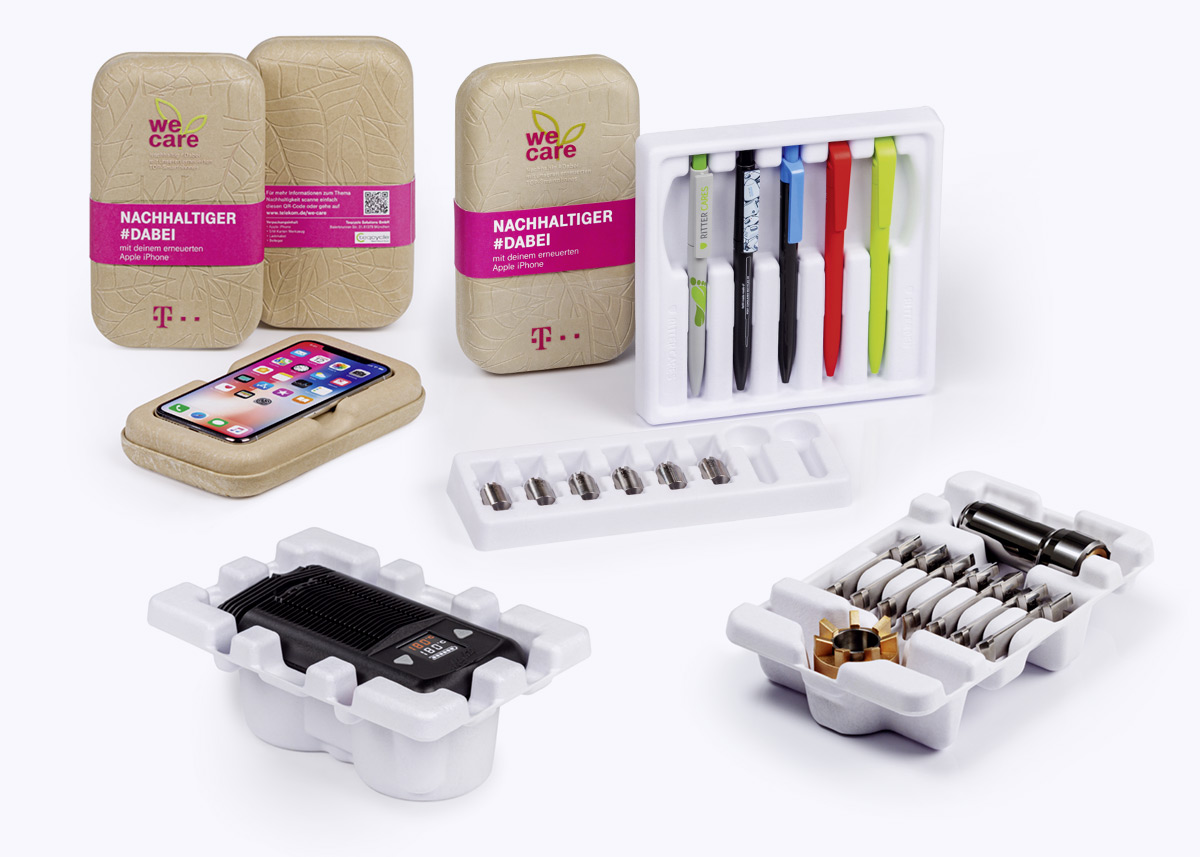 Advantages at a Glance!

+ Made from renewable raw materials
+ Conserving resources - From FSC® certified forest
+ 100% recyclable - Disposal with waste paper
+ Biodegradable and compostable according to EN13432
+ Non-toxic, food safe and environmentally friendly
+ Can be safely sterilized via gamma irradiation
+ Low Global Warming Potential (GWP) value
+ Low CO2 emission production
+ Low water and energy consumption during production
+ Resistant and dimensionally stable
+ Material thickness 2.2 mm (minimum) to 5 mm for heavy packaged goods (reinpapier®plus)
+ Excellent surface and scratch protection (packaged goods can be packed without polybags)
+ High/deep embossing of logos or text possible
+ Precisely fitting and securing of products or product sets
+ The packaging is ultra-light and offers a potential weight reduction of up to 40% compared to conventional products
+ Molded parts can be nested and stacked
+ Unlimited color possibilities
+ Industry-independent application possibilities

reinpapier® - a Packaging Product by DE-PACK

We achieve our high packaging standards through a high degree of creativity, technical innovation and a great deal of know-how. This results in high-quality and sustainable packaging solutions that meet almost all requirements of the packaging industry on a natural basis. That is why you will also find environmentally friendly injection molded paper packaging in our range, which is 100% organic and 100% dimensionally stable.

The following video (german language) is intended to stimulate thought and show that, thanks to reinpapier®, there are already highly ecological solutions available to massively curb the rapidly increasing environmental pollution caused by packaging waste.
Ecological Production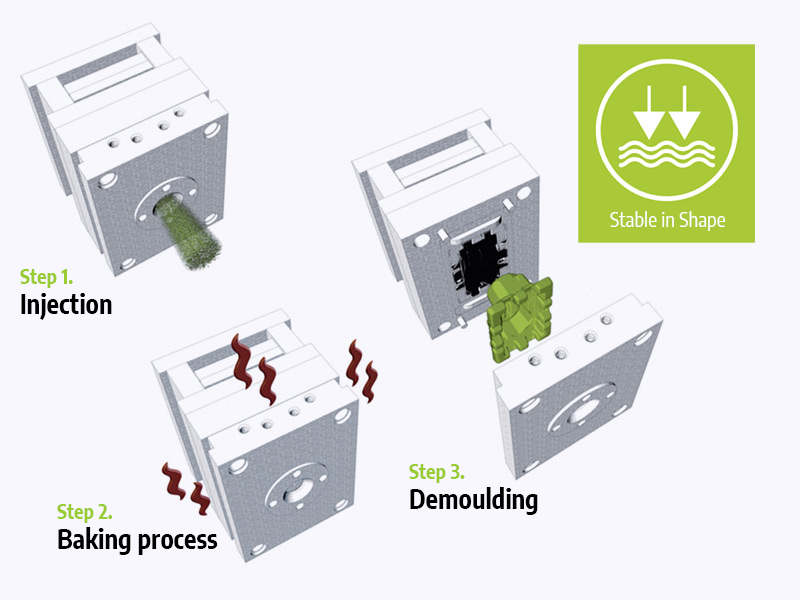 The paper mix is injected into an aluminum mold by means of a specially developed injection molding process. The mold internal contours are achieved by applying a hard aluminum layer using an anodizing process. The paper mix is "baked" in the specifically designed mold at a regulated temperature. The finished part is then removed from the mold. Aluminum molds offer an excellent level of detail and a high degree of consistency to the packaging shapes. The special features of this injection molding process are the smooth surface structure and the increased strength of the material.

Ecological Production
We use a patented process in which no chemical additives are used during the production process. This leads to our ecological end result.
We also pay close attention to the economical use of raw materials during production, including the efficient use of energy and low water consumption during production.
Step 1.
Injection
The paper mix is produced and injected into an aluminum mold by means of a specially developed injection molding process.
Step 2.
Baking process
The paper mixture is "baked" in the specifically designed mold at a constant temperature of approx. 200 °C.

Step 3.
Demolding
The finished product is removed from the mold. The use of specific molds will assure that the finished product will conform precisely to the contours of the product being packaged. This manufacturing process also assures smooth surfaces and increased strength in the finished product.

Technical specifications
The permissible material tolerances for reinpapier® are between -1% and +1.5% and +1.5%. In practice, however, the tolerances are usually less than 0.5%.

The maximum shape or size of reinpapier® packaging is limited due to technical production constraints. Packaging dimensions can be individually requested.

A minimum thickness of 2.2 mm to 3 mm are required. As a rule we plan a material thickness of 2.5 mm, which is used for 75% of our produced packaging we produce.
Are reinpapier® packagings temperature resistant?
The following diagram shows the relationship between temperature and relative humidity, namely the time when the material changes from the dimensionally stable state to the unstable state.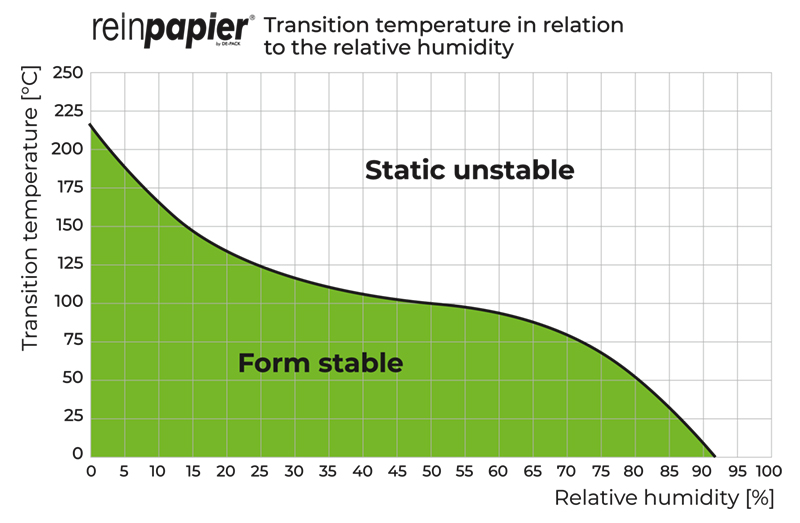 Variable wall thickness with reinpapier®plus
Our proven paper injection moulded packaging varies between wall thicknesses of 2.2 to 3 millimetres. This has many advantages, but unfortunately also limitations when packaging heavier products.

With our further development reinpapier®plus we can now also present a more stable variant as a solution. reinpapier®plus has the same ingredients but shines with a wall thickness of 5 millimetres. A potential substitute to replace more EPS packaging material (Styrofoam) and to sensibly expand the many positive reinpapier® features.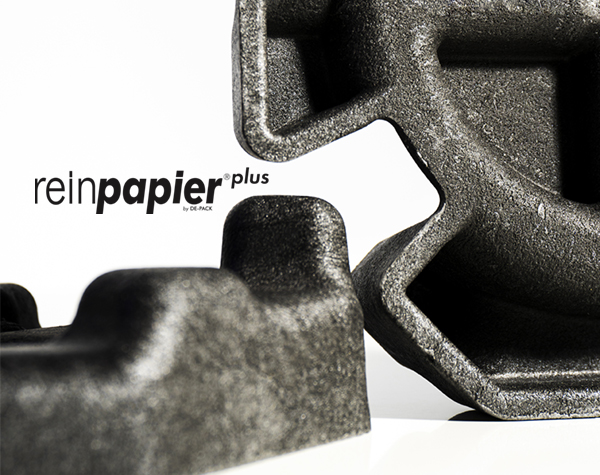 Is reinpapier® packaging food safe?
reinpapier® is tested and certified and is therefore suitable for use in food packaging without any health concerns, because the packaging is produced 100% organically and does not contain any toxic or harmful substances.